ISO standard spreader series
Short Description:
$content.description

联系我们获取更多信息
我们能为您提供更多的选择方案

Marine Crane & Four Ropes Clamshell Grab
The QSHI-30t30m four rope grab crane is designed for high speed and continuous performance. A wide rope field for stabilising the grab ensures safe operation and cargo handling without the need of an additional stabilizing winch. Specialty designed heavy duty hoisting winches, heel trim alarm systems and emergency operation functions make these cranes suitable for operation In open seas.
These unique features backed by QSHI's long and vast experience In the design, development and manufacturing of ship cranes provide high quality products for safe working conditions, high reliability and performance.
Marine Crane & Four Ropes Clamshell Grab –30tx30m Main Technical Features
1.Safety control system
There are two reliable operation mode, working &install mode.It has many advanced function like real-time dispaly the levelness, stop working when it seprate from the crane,Emergency electrical control, Lightning protection,Closed circuit monitoring. Complete safety&monitor system.
2.Excellent operating performance
The handle has good micro-motion performance and no impact inertia.
Main valve has LUDV function, which is independent of load pressure flow distribution.
The control mode of the main pump is LAI, It means power regulation with override control by the pilot pressure control, but also can realize the load sensitive function.
The control system uses the PLC program control, I / O expansion module, data transmission using CAN bus communication protocol and network structure, fault alarm display system, real-time display of the crane system fault.data recorder, the realization of system fault alarm loop-saving.
Torque limiting system, with warning, alarm, forced overload and forced to cut off the working system of four heavy protection function, this control system have certain advantages in reliability, comfort, advanced aspects.
3.Reliable assurance of function
The key components are all international famous brand, the safety margin of structure and mechanism design is sufficient.
Control system can be working stable in cold, high temperature, as well as the wind and sand in the harsh environment.
4.Convenient maintenance technology
It will take no more than 10minutes to reach the Location of adjustable.
It will take no more than 30minutes to reach the Location of adjustable area.
The maximum maintenance close to the time is not greater than 2h.
And equipped with GPS remote monitoring system to facilitate users to carry out equipment maintenance and management.
5.Powerful lifting capacity
The maximum lifting capacity of the main arm is 30 tons x 30 m =900 tons.
6.Flexible Application Area
Used on ship or fixed on the ground.
Marine Crane & Four Ropes Clamshell Grab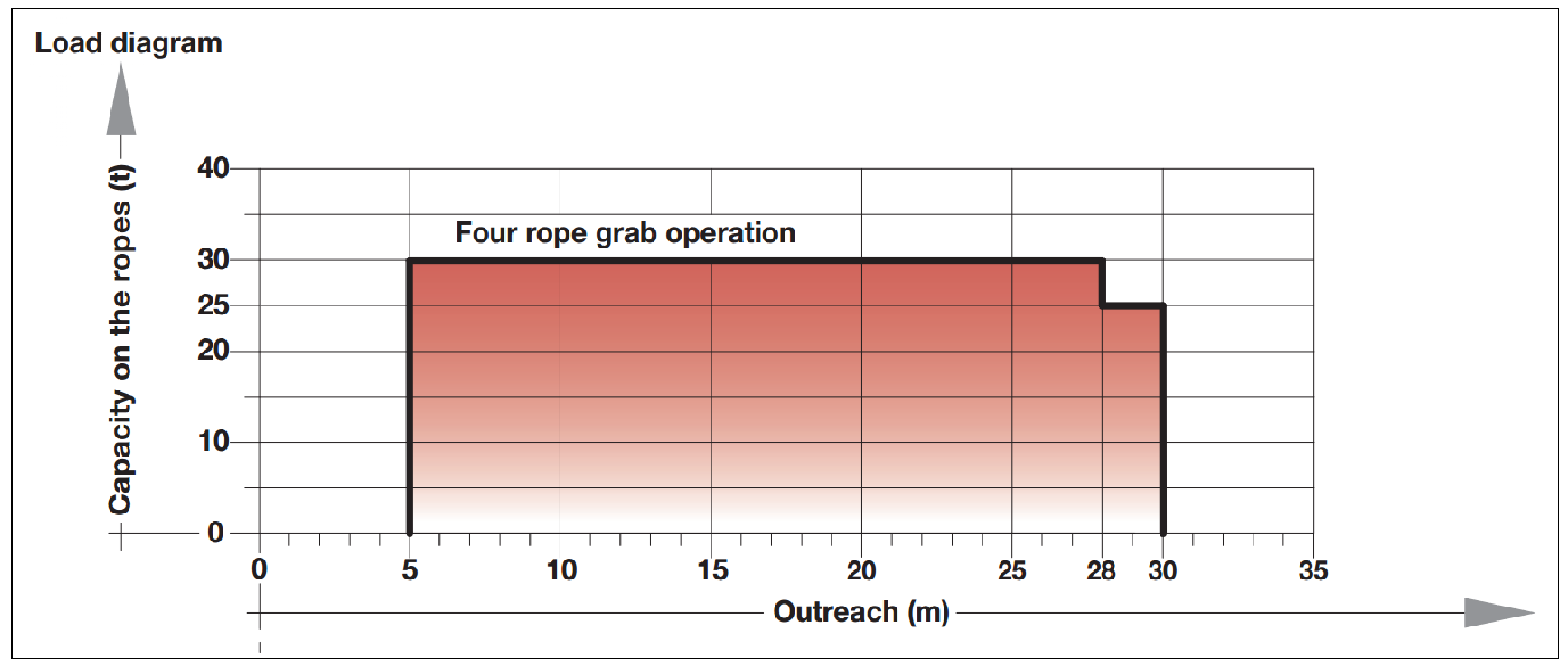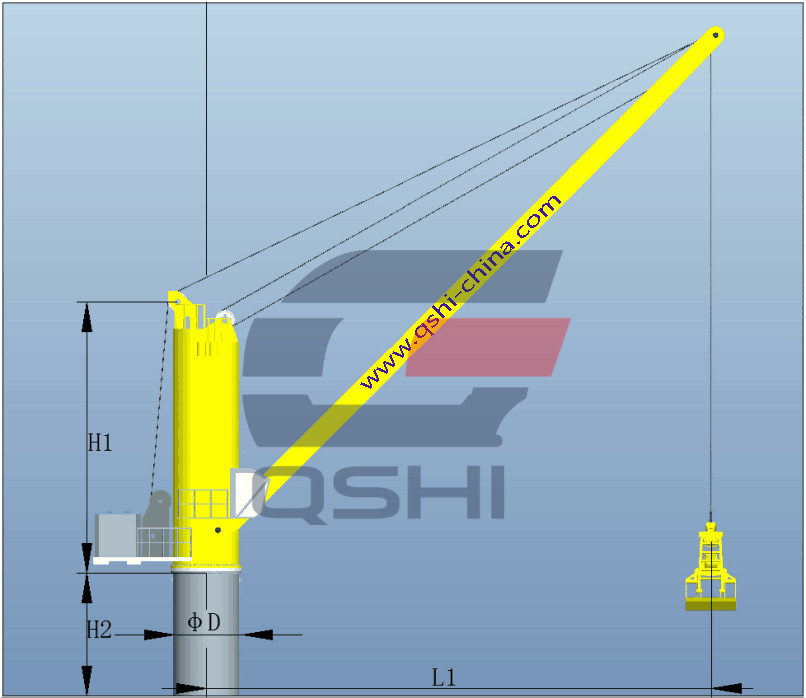 类型Type

L1(m)

L2(m)

H1(m)

H2(m)

B(m)

ΦD(m)

30t×30m

5~30

4~7

11

定制

on request

5.5

2.79
Marine Crane & Four Ropes Clamshell Grab with ex-centre arm
The QSHI-30t30M four rope grab crane have a maximum lifting capacity of 25 tonnes with an outreach of 30 metres in grab operation.
This outreach can be extended through an ex-centre arm of 6 or 10 metres making total outreaches of 36 or 40 metres respectively. This means that it is not necessary to reposition the barge to reach all holds during unloading,and the turnover can be increased by approx.20% in comparison to conventional cranes.
Marine Crane & Four Ropes Clamshell Grab--30tx30m Main Structure Size with ex-centre arm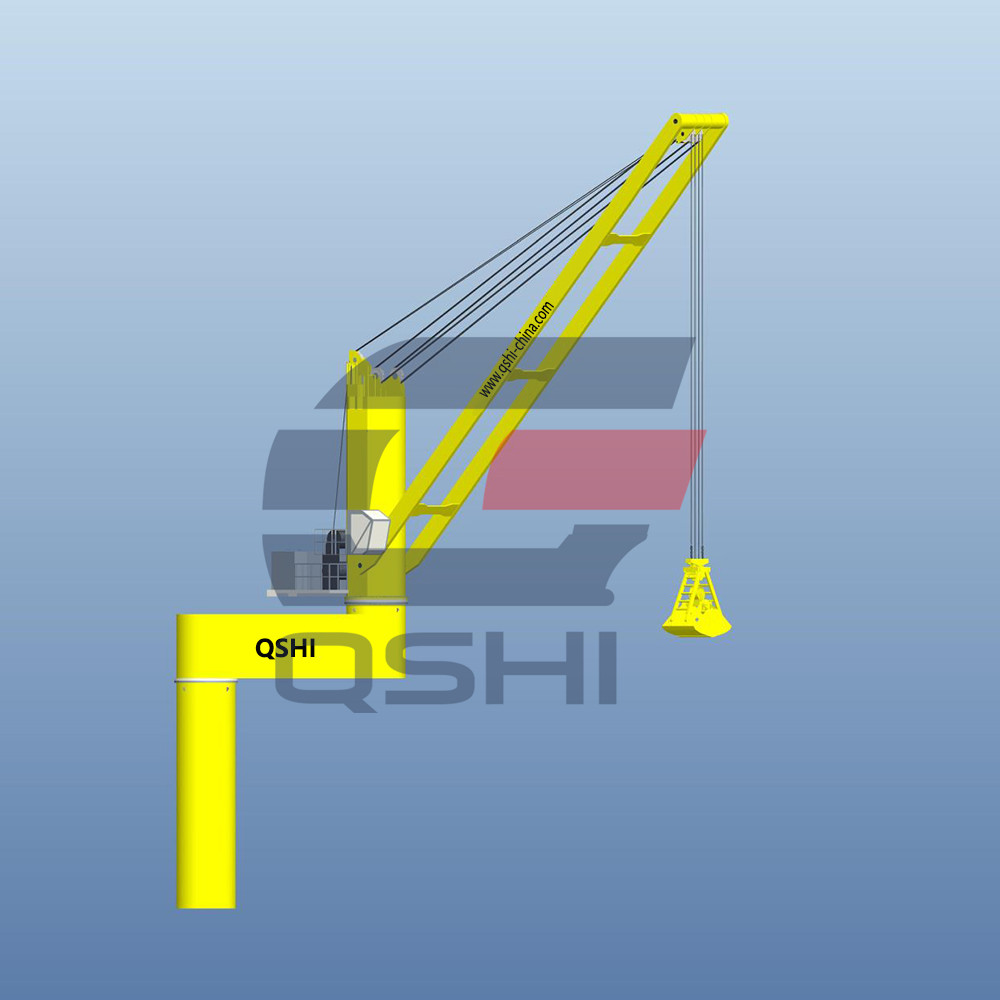 | | | | | | | | |
| --- | --- | --- | --- | --- | --- | --- | --- |
| 类型Type | L1(m) | L2(m) | L3(m) | H1(m) | H2(m) | B(m) | ΦD(m) |
| 30t×30m加长 | 5~30 | 4~7 | 10 | 15 | 定制on request | 5.5 | 3.24 |
Marine Crane & Four Ropes Clamshell Grab - Customized with modularization concept
Main characteristic of QSHI crane is the special concept of modularization. Crane can work with variety affiliated grab and spreader, choose the best combination of port infrastructure & Bulk vessel working environment.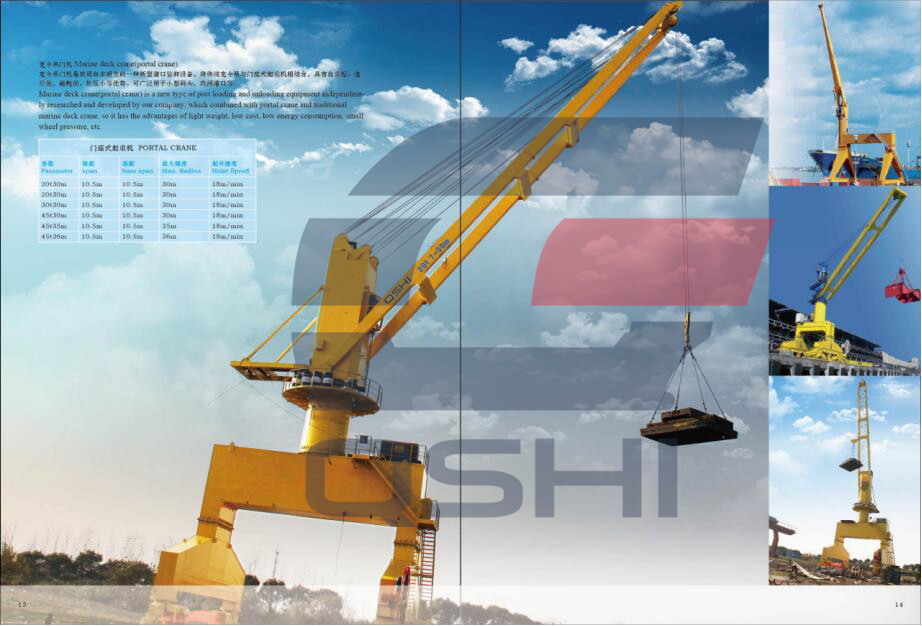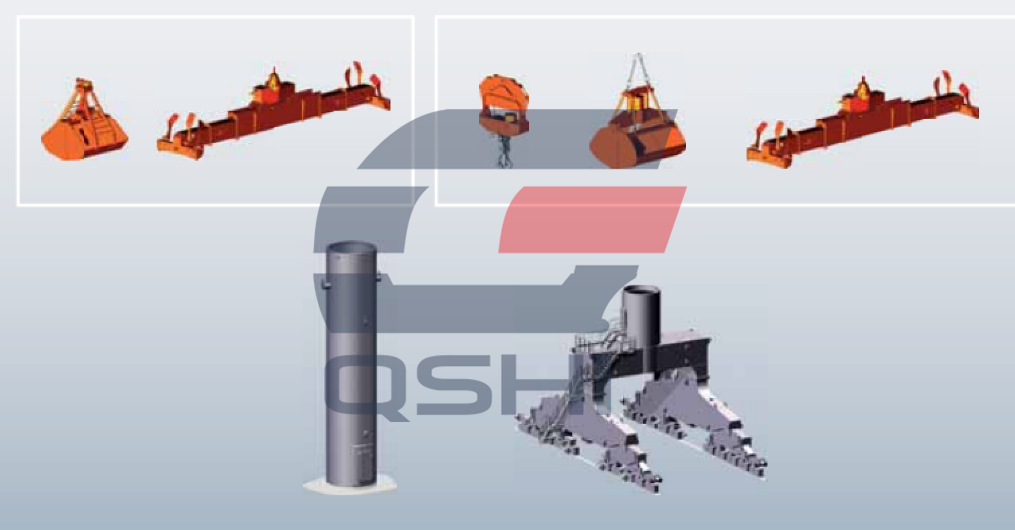 Marine Crane & Four Ropes Clamshell Grab- Application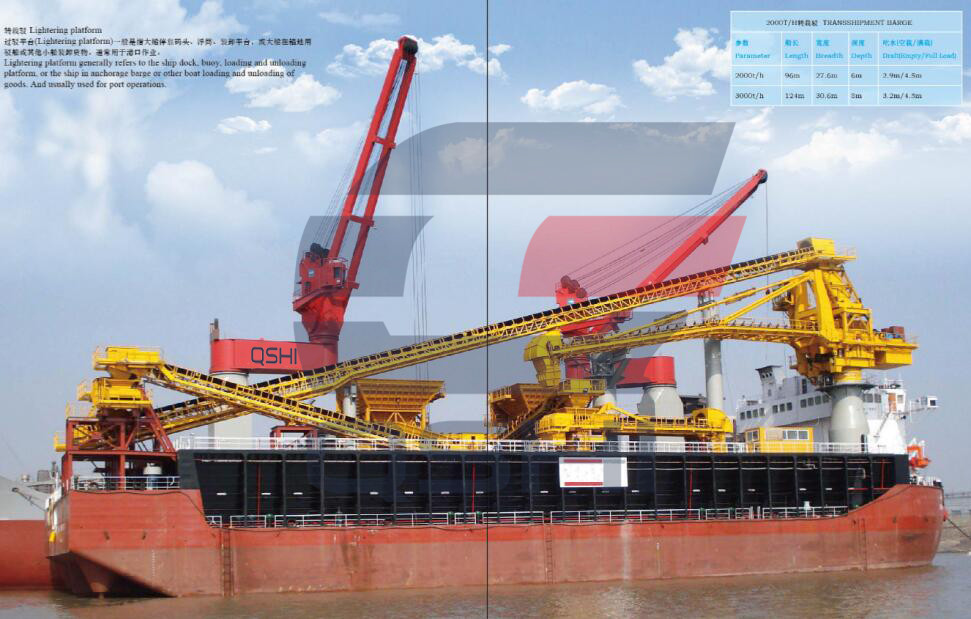 ---
---