ISO standard spreader series
Short Description:
$content.description

联系我们获取更多信息
我们能为您提供更多的选择方案


Multifunctional orangle peel grab:
It is mainly designed for handing bulk material in blocks, particles and irregular sharps, such as coke,pig iron, steel scrap,slag,garbage and rock etc. It is widely used on ports, steel plants and garbage treatment plants, with tower cranes, ship unloaders, traveling cranes and other type of cranes. The grab has its own hydraulic system , all key elements are imported well-known brands to ensure high performance of grab. It is simple in structure and easy to operated.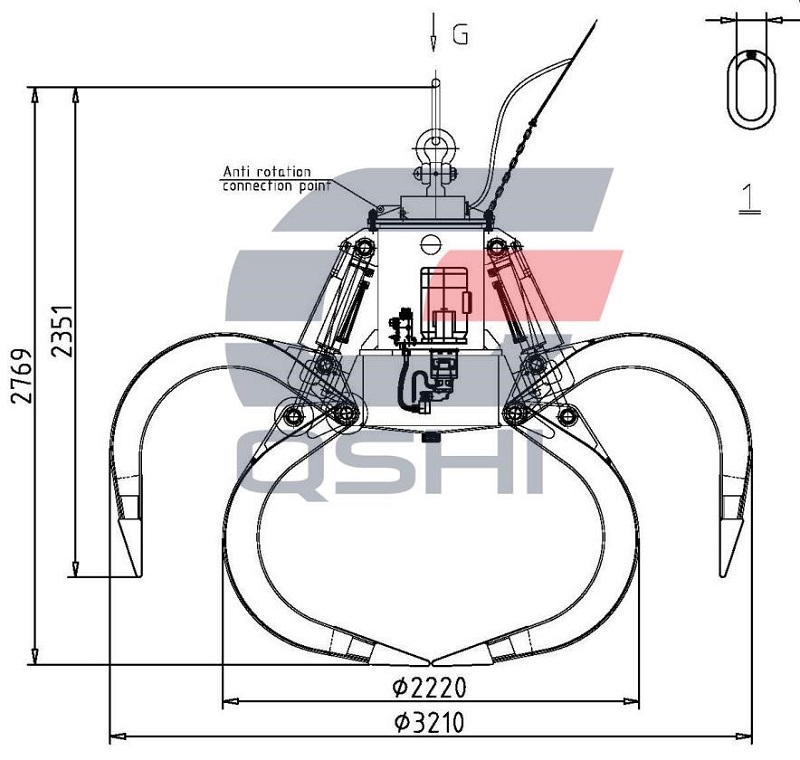 Model

Power

Dead weight(kg)

SWL(t)

Capacity(m³)

Max working pressure(Bar)

No.of peels

Close time(S)

Overall dimension(mm)

QSEH

380V50Hz

440V60Hz

380V50Hz

440V60Hz

A

B

C

D
E

QSEH22.0-1000

22

26

2960

6

1

180

6

11

9

2580

2240

1880

3010
2900

QSEH30.0-1250

30

35

3980

7.8

1.25

180

6

14

12

2840

2470

1960

3290

QSEH30.0-1600

30

35

4270

9.1

1.6

180

6

14

12

2880

2490

2050

3380

QSEH30.0-2000

37

44

5980

12.2

2

200

6

15

12

3320

2810

2320

3680

QSEH37.0-2500

37

44

6170

13.8

2.5

200

6

15

12

3390

2870

2440

3880

QSEH37.0-3200

45

54

8280

18

3.2

200

7

20

13

3540

3110

2580

4240

QSEH37.0-4000

45

54

8630

20.7

4

200

7

20

13

3710

3170

2830

4600

QSEH45.0-5000

45

54

9180

24.2

5

220

7

23

17

4080

3350

2980

4790
---
---