ISO standard spreader series
Short Description:
$content.description

联系我们获取更多信息
我们能为您提供更多的选择方案




Container discharge dumper


Product description:


This product is suitable for rapid unloading of bulk materials in electric power, chemical, metallurgy, grain, cement, coal and other industries. It completely solves the key problems of slow unloading speed, pollution to workers and air during unloading, high cost of unloading, and low safety factor. It can improve the efficiency by several times and save millions of dollars every year.
When the heavy-duty truck with bulk materials is positioned in the middle of the platform, the operator handle the electric control button in the control room (the dynamic situation of the unloading platform and the vehicle can be seen from the control room), and the hydraulic cylinder is slowly synchronized. When it stops at a certain position, when all the materials are discharged, the electronic control button platform is operated from the control room to return to the platform steady state (when the cylinder is restored without stroke), the truck is driven off the platform.
The truck opens the flap platform according to the instruction, manually starts the wheel locker cylinder, the wheel stopper opens, and after the car is in position, press the field start signal button (with the light button), the PLC automatically raises the main hydraulic cylinder and starts at the same time. The signal button light is automatically turned off, so that the flap platform is lifted (time limit is 5 minutes) to an angle of 42° (angle with the horizontal); then the delay is 20 to 30 seconds (in the process, the material in the vehicle is gradually unloaded) Out, the middle can be paused), then the platform is automatically dropped and reset (time limit is 3 minutes, the middle can be paused), the wheel brake cylinder is manually activated, the wheel stopper is closed, and finally the empty vehicle opens the flap platform.
Product Features:



1.Hydraulic 20ft/40ft/40HQ Container and truck Dumper is applied to discharge bulk product from containers directly into downstream procedure.
2. QSHI imported the international advanced technology of container unloading system . The system is applied to discharge products from 20'or 40'containers directly into downstream equipment. Operators can drive trucks or lift the containers onto the unloading deck for discharging.


Advantages:


Lower Labor Costs: using a single operator .
No Contamination Risks: containers can be unloaded directly into silo./storage
No More Tilting Trailers: no more looking for hard to find and expensive tilting trailers.
Safer: can be operated with one controller.one operator and options for safety hoops and safety tie down chain for extreme full tilt over 45 Degree tilt
More Convenient: unload containers when you want.
More Control: control unloading speed by adjusting tilt angle.
Easier To Store Containers: allows you to store container in tilter and unload over a longer period of time.
Adverse weather Protection: Snow protector , at the top of container, prevents snow slide during tilting
Parameters:
Model

QSHI-50

QSHI-80

QSHI-100

Tilte Platform length (m)

12-16

16-18

18-20

Supporting mode

Two side supporting

Tilte Platform width (m)

3m

operating degree (º)

0-55(º)

Max lifting weight (t)

50

80

100

Platform lifting time (s)

150

210

240

Platform falling time (s)

150

210

240

Maximum dumping wheelbase (m)

9/12

13/15

15/17

Motor power (kW)

30

37

45

System rated pressure (MPa)

14

10

16

System rated flow( L/min)

112

156

173

Hydraulic pump mode

PV2R3-76

PV2R22-41/65

PV2R23-41/76

Cylinder Pushing Forces/Class 1

116




135

Cylinder Pushing Forces/Class 2

78




120

Cylinder Pushing Forces/Class 3

42




72

Catch wheel Qty

1/2 set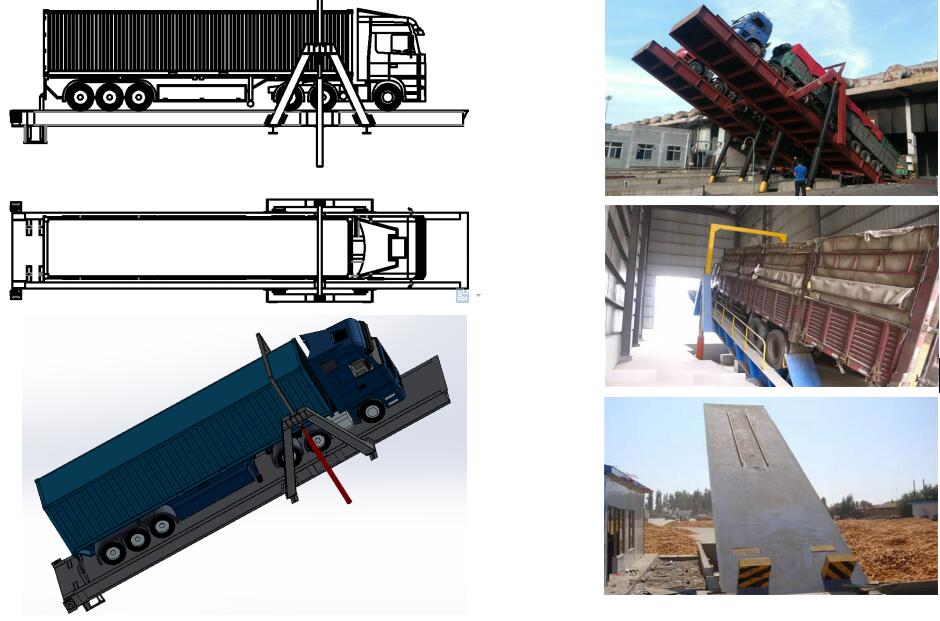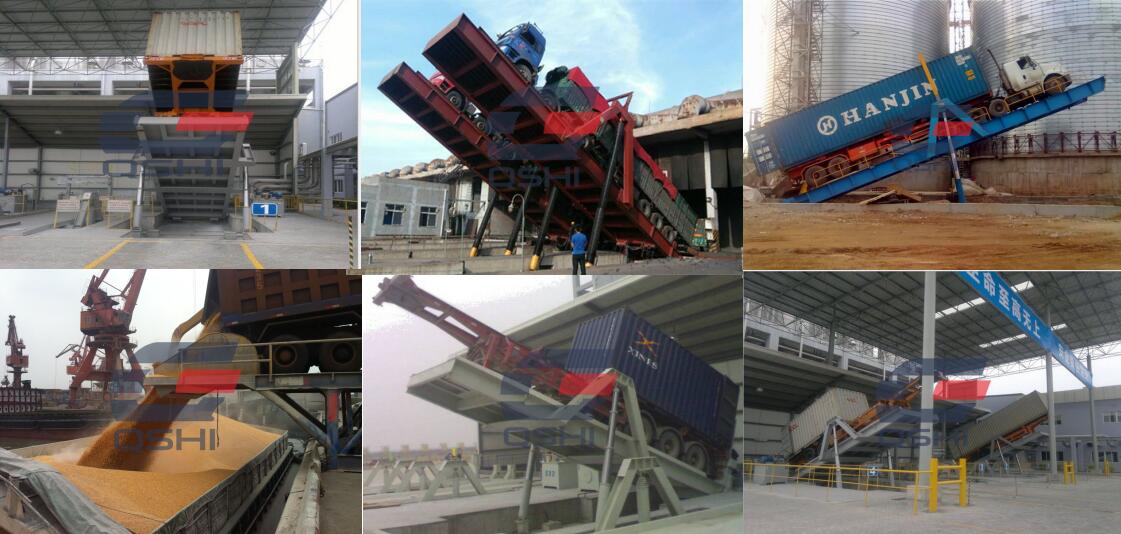 ---
---